The Members
Titia Blake
Violin
Founder of Palm Strings
Titia Blake started her career as a violinist at the age of ten. She was chosen to tour Europe and Israel as part of the South African national youth orchestra whilst still at school. After studying for a B.Mus at UCT she joined the Cape Town Symphony Orchestra as first violin. She has performed chamber music almost as long as she has been playing the violin. She is married to trumpeter, Michael Blake, and has three children. Teaching is an important part of Titia's life, in particular her Outreach program in Masi.
Michael Hoole was awarded the Bachelor of Music (Performers) Degree with distinction at the UCT College of Music in 1988. He studied further in London
where he obtained a diploma in the Advanced Course from The Royal College of Music in 1989, and completed a Post Graduate Teaching Diploma at UCT in 1990.
He has performed with the Cape Town Symphony Orchestra, as well as representing South Africa in several international competitions. Michael has recorded
for the SABC and has toured South Africa, Namibia and Europe. At present he performs exclusively with Palm Strings.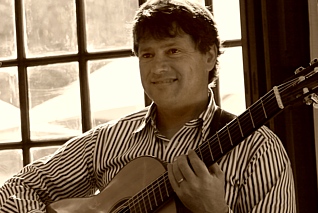 Ross Johnson
Double Bass/PennyWhistle
Ross Johnson plays both the double bass and penny whistle in the Trio. He has a degree in music from the University of Cape Town, and is Director of Music at St Cyprian's School. Ross has lectured, given music workshops and performed in Sweden, Argentina, Malaysia, Italy, Russia, Finland, US and China. His playing has been featured on a number of local and international films, including Zambezia.
Italian born violinist Lucia Di Blasio came to South Africa in 1983 as founder member of the new formed Natal Philharmonic orchestra in Durban. Seeking new horizons she and husband Stuart Scott moved to Cape Town in 1993. Lucia has been Principal member of the Cape Town Symphony Orchestra as well as the newly merged Cape Town Philharmonic Orchestra. Since 1998, though, Lucia has left the city Orchestra and dedicated herself to her family and to teaching. She is also a very active Chamber music performer, with Palm Strings as well as the Michaelis Players and the Concerts 4×2 and Prof. Gie.
Karin Gaertner was principal violist of the former Cape Town Symphony Orchestra and studied viola in Cape Town and Salzburg as well as participating in masterclasses in France and Belgium. She holds a B.Sc. from UCT and a viola performance diploma from the conservatoire "Claudio Monteverdi" (Italy). She is currently a regular member of the the "Palm Strings" quartet, "Amici" string quartet and "Camerata Tinta Barocca".
Bulawayo born Barbara Kennedy studied cello and piano as a Scholar of the Royal Academy of Music in London. Back in South Africa, she has worked with all the National Orchestras and enjoys a wide range of musical activities including the Michaelis Players, I Grandi Violoncellisti, and the Palm Strings Quartet. She is also passionate about spontaneous music making with unusual musical instruments. Barbara is currently resident cello teacher at Bishops Diocesan College, as well as the Director of the Franschhoek Chamber Music Workshop.